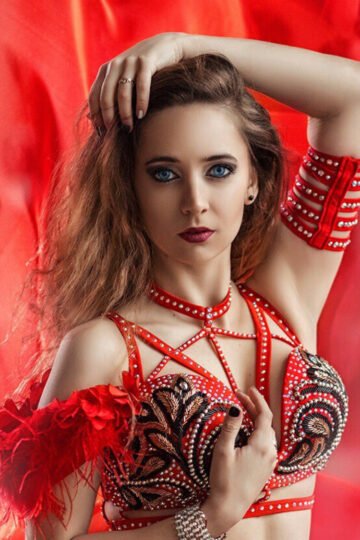 TEACHER
Alesia Domasevich-Petrova
💎 Professional performer and choreographer of Raks Sharki and Oriental Folk Dances.
💎 Teacher of highest category, Judge of highest national category, coach of the most successful Belorussian dancers, art director of  oriental dance school Elissa, teacher and choreographer of dance club Ovation.
💎 Creator of author marathons and online courses. Choreographies created by Alesia in various bellydance styles performed by the dancers worldwide in both competitions and shows.
💎 Multi champion of various cups and championships in Belarus and abroad.
💎 Winner of the Crown of Saida (Argentina).
💎 Winner of festivals: Spirit of Cairo in Germany, Cairo by Night in Greece, Yalla in Egypt, Ethno Dance and Oazis in Russia, Egypt Fever and Orient Addicts in Poland, double winner in Professional Balady with band category in Belarus, Double winner of Azure festival in Latvia.
💎 Co-organizer of festivals Arabian Queen and Al Jawhara with Egyptian band, international youth festival Golden beads, various online projects and workshops. Organizer of international project Way to be a Star.
💎 Teacher of various international festivals and projects.