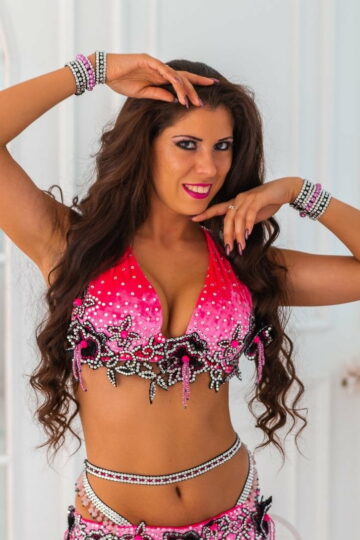 Well-known professional bellydance artist, international teacher, judge, organizer of Dance Weekend in Warsaw festival, owner and designer of Aliah Bellydance fashion brand – dance costumes and accessories.
Choreographer of Aliah oriental dance studio in Warsaw.
Aliah's performances, workshops and fashion shows of Aliah Bellydance fashion collections were held in many countries: China, Switzerland, Norway, France, Spain, Italy, Cyprus, Austria, Greece, Germany, Poland, Lithuania, Holland, Serbia, Denmark, Portugal, Russia, Belarus.
Aliah has performed Bellydance since 2009. For 5 years she actively took part in various contests and festivals winning and taking prize places in many of them.
In 2013 she opened her Bellydance classes in Belarus. Her students became winners and champions of Belarussian contests. In 2014 her group became champion of Belarus in the Show category.
Since 2015 she lives in Warsaw, Poland where she teach her own classes too. Her students dance on the best city stages and travel with her to visit festivals all over the Europe.