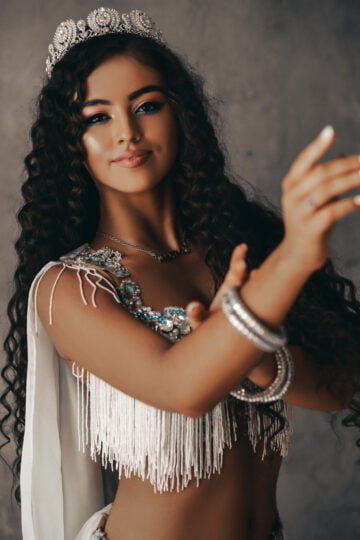 Ramile is a Ukrainian oriental dance performer and teacher of Azerbaijani nationality, known for her powerful charisma and unique presentation style. As head of the RAMILE dance studio, she specializes in Dabka, Khaliji, Saidi, Pop song, Raks sharki, Roman Havasi Turkish Gypsy Dance, as well as Azerbaijani, Gypsy, and Indian dance.
Ramile is a highly sought-after teacher and has conducted master classes in Ukraine and abroad, sharing her knowledge and passion for oriental dance with dancers of all levels. Her teaching style is renowned for its clarity and effectiveness, and her workshops are always well-received by participants.
In addition to her teaching and performance work, Ramile has won multiple awards, including the crown of Elena Ramazanova in 2019 and victories in oriental dance competitions and festivals. She is a two-time winner of the Battle of Champions UFOD, cementing her reputation as an accomplished dancer. With her dynamic performances and captivating stage presence, Ramile continues to inspire audiences in Ukraine and worldwide.